1690 VELLUM DOCUMENT. WHITE – NICHOLLS - COLEMAN. WEST HAM& SMITHFIELD, LONDON.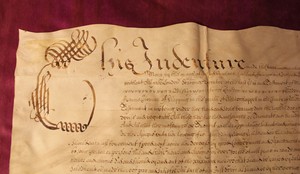 ---
Two sheet period Vellum Indenture dated 24th December 2nd William & Mary (1690), referring to: Henry White of the Minories in the Parish of St Butolphs without Allgate London Stationer and his wife Elizabeth and Elizabeth Nicholls of Bishopsgate Street London Widow of the one part and Francis Coleman of Wapping in the Parish of Whitechappel in the County of Middlesex Marriner and Hester his wife of the other part.
Pertaining to: Seven Messuages which do abutt East on the Kings highway leading from Stratford to West Ham Church West and a Messuage in East Smithfield in the Parish of St Butolphs without Allgate according to the will of Mary Austen.
Other names referred to include: ....... Evans; John Collins; Valentine Gipps; John Johnson; Elizabeth Neale; Katherine West; ........... Franks; Isaac Mince etc.
Has been subject to moisture exposure with tears and edge damage. Usual folds and wrinkles. All text legible.
Bearing the signatures of Henry White, Elizabeth Nicholl & Francis Coleman traversing three red wax seals.
Approx. larger sheet dimensions: 29" x 23" (735 x 585)
………………….
If making multiple purchases, please await combined P&P costing before making your final payment.
All payments via PayPal only.
Thank you for viewing this item.