1717 VELLUM INDENTURE. POULSUM – KING – POULSUM. MELKSHAM, WILTSHSHIRE.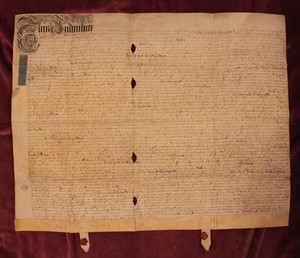 ---
Single sheet period Vellum Assignment Indenture dated 20th March 3rd George I (1717), referring to: Anthony Poulsum of Whitly in the Parish of Melksham in the County of Wilts Weaver and John Little of Whitly aforesaid Carpenter of the one part and William Poulsum of Whitly in the Parish and County aforesaid Weaver of the other part.
Pertaining to: All that Messuage Commonly called Castles House Cottages Gardens Orchards Parrocks close of Meadow Ground etc.
With references to previous indentures for the same property dated 2nd Charles I (1627), 1654, 1675, 1680, 1682, 1684, 1700, 1704, 1708 & 1716 with details of tenants.
Other names referred to include: Edmund Hayward; William Winter; Lawrence Hutton; Joseph Hutton; Henry Eascott; Joan (Hutton); Ambrose Awdry; Edward Blagdon; John Hutton; William Hutton; Anne Hutton; John Poulsum; Abraham Little etc.
Very clean and related condition with usual folds and wrinkles, but with four oval holes (largest approx. 12mm x 30mm). Thick Vellum.
Bearing the signatures of Anthony Poulsum and John Little over seal tags.
Approx. sheet dimensions: 29" x 22 ¾" (740 x 580)
………………….
If making multiple purchases, please await combined P&P costing before making your final payment.
All payments via PayPal only.
Thank you for viewing this item.