1800 VELLUM WILL DOCUMENT. GRACE OATLEY. BATCOMBE, SOMERSET.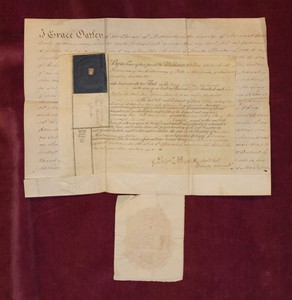 ---
Single sheet period Vellum Will copy dated 12th November 1800, referring to: Grace Oatley of Batcombe in the County of Somerset Widow. Plus attached Letter of Administration dated 31st August 1804.
Other names referred to: John Oatley; Mary Davis; Elizabeth Oatley; Henry Hill; Ann Hill; Thomas Hill; Grace Hill; George Oatley etc.
Witnesses: William Lacey; Richard Mees? & Ann Chapman.
Very age related condition with usual folds. Large pendant wafer seal.
Approx. will sheet dimensions: 11 ¾" x 8 ½" (300 x 215)
………………….
If making multiple purchases, please await combined P&P costing before making your final payment.
All payments via PayPal only.
Thank you for viewing this item.