1858, Kingdom of Prussia. Silver "Victoria & William Marriage Medal" Damaged F+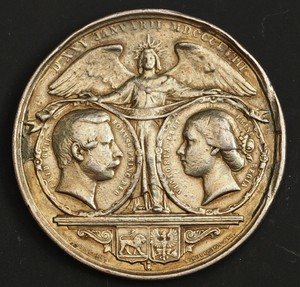 ---
CoinWorldTV

1858, Kingdom of Prussia. Silver "Victoria & William Marriage Medal" Damaged F+

Mint Year: 1858Medallist: G. Loos  / W. Kullrich Reference: Marienburg 6488. Sommer K 23.    Denomination: Medal - Marriage of Princess Victoria and Prince William of Brandenburg-Prussia (the later Emperor Frederick III of Prussia) on 25th of January 1858Condition: Gold plated, welding scars at 3 and 9 o'clock (obverse), edge-hits and numerous circulation marks, otherwise F+ Material: Silver (gold plated)Weight: 57.04gm Diameter: 53mm

To pay the dowry of the Princess Royal, the British Parliament allotted the sum of 40,000 pounds and also gave her an allowance of 8,000 pounds per year. Meanwhile, in Berlin, King Frederick William IV provided an annual allowance of 9,000 thalers to his nephew Frederick. The income of the second-in-line to the Prussian throne proved insufficient to cover a budget consistent with his position and that of his future wife. Throughout much of their marriage, Victoria relied on her own resources. Victoria's wedding by John Phillip The Berlin court of the royal couple was chosen by Queen Elizabeth and Princess Augusta, Frederick's aunt and mother. They summoned people who had been in court service for a long time and were much older than Victoria and Frederick. Prince Albert therefore asked the Hohenzollerns that his daughter could keep at least two ladies-in-waiting who were her age and of British origin. His request was not completely denied but, as a compromise, Victoria received two young ladies-in-waiting of German origin: Countesses Walburga von Hohenthal and Marie zu Lynar. However, Prince Albert did succeed in imposing Ernst Alfred Christian von Stockmar, the son of his friend Baron von Stockmar, as his daughter's private secretary. Convinced that the marriage of a British princess to the second-in-line to the Prussian throne would be regarded as an honour by the Hohenzollerns, Prince Albert insisted that his daughter retain her title of Princess Royal after the wedding. However, owing to the very anti-British and pro-Russian views of the Berlin court, the prince's decision only aggravated the situation. The question of where to hold the marriage ceremony raised the most criticism. To the Hohenzollerns, it seemed natural that the nuptials of the future Prussian king would be held in Berlin. However, Queen Victoria insisted that her eldest daughter must marry in her own country, and in the end, she prevailed. The wedding of Victoria and Frederick took place at the Chapel Royal of St. James's Palace in London on 25 January 1858.

Authenticity unconditionally guaranteed. Bid with confidence!

Victoria, Princess Royal (Victoria Adelaide Mary Louisa; 21 November 1840 – 5 August 1901) was German empress and queen of Prussia by marriage to German Emperor Frederick III. She was the eldest child of Queen Victoria of the United Kingdom and Prince Albert of Saxe-Coburg and Gotha, and was created Princess Royal in 1841. She was the mother of Wilhelm II, German Emperor.

Educated by her father in a politically liberal environment, she was betrothed at the age of sixteen to Prince Frederick of Prussia and supported him in his views that Prussia and the later German Empire should become a constitutional monarchy on the British model. Criticised for this attitude and for her English origins, Victoria suffered ostracism by the Hohenzollerns and the Berlin court. This isolation increased after the arrival of Otto von Bismarck (one of her most staunch political opponents) to power in 1862.

Victoria was empress and queen of Prussia for only a few months, during which she had opportunity to influence the policy of the German Empire. Frederick III died in 1888 – just 99 days after his accession – from laryngeal cancer and was succeeded by their son William II, who had much more conservative views than his parents. After her husband's death, she became widely known as Empress Frederick (German: Kaiserin Friedrich). The empress dowager then settled in Kronberg im Taunus, where she built Friedrichshof, a castle, named in honour of her late husband. Increasingly isolated after the weddings of her younger daughters, Victoria died of breast cancer a few months after her mother in 1901.

The correspondence between Victoria and her parents has been preserved almost completely: 3,777 letters from Queen Victoria to her eldest daughter, and about 4,000 letters from the empress to her mother are preserved and catalogued. These give a detailed insight into the life of the Prussian court between 1858 and 1900.

Only 1$ shipping on each additional item purchased!