Arc Electronic Windproof Mini Lighter USB Recharge Cigarette Alloy Shell US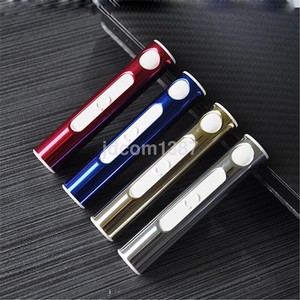 ---
Description:
Condition: 100% Brand New and High Quality.
Color: Random
Until completely exposed cigarette lighter, redness instantly heating wire can be lighter
This product is built high-rate charge and discharge cycle battery can be charged about 500 times, long 2-3 hours per charge
You can point 3-4 cigarette packs in the case of normal
2.0 USB standard charging jack, you can DC5V computer and USB power charging directly
USB charging lighter with a windproof, safety, environmental protection and energy saving;
This product is only used for charging USB interface can be connected to the computer, mobile phone chargers and other charge on any output voltage DC5V, output current is less than 3000MA charger.
Attention while use:
1.Initial use of long periods of non use, connect the charger, then disconnect and reconnect the charger. After fully charged immediately disconnect the power supply (typically full charging time is 2 hours), Do not leave a fully charged rechargeable lighter usb connected to the power supply.
2.Do not use this product for children
3.Do not use this product in a fire, which may result in an explosion
4.Do not put this product into water or other liquids, which may cause a short circuit
5.At the same time reminded of flights, the majority of visitors (cigarette lighter) items belonging to fire class
Package Includes:
1 x USB Cigarette Flameless Lighter