Bolle Tracker II Safety Glasses Goggles - Anti Mist & Scratch + Case Bag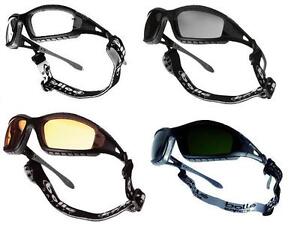 ---
Bolle Tracker II Safety GlassesPremium quality Safety Glasses / Goggles
Available in:
Clear - TRACPSIYellow - TRACPSFSmoke - TRACPSJ3 welding shade lens:Shade 1.7 - TRACWPCC2Shade 3 - TRACWPCC3Shade 5 - TRACWPCC5
by the leading manufacturer
Tested and approved to EN 166 1.B 3, 4 and EN 170 
Retail value from £22.99 per pair
Description:
A unique concept that offers the comfort of a safety spectacle with the fit and seal of a goggle. Interchangeable foam seal gives added brow and cheek protection plus the adaptability of a fully adjustable strap that can also be removed.• Interchangeable foam reinforcement with indirect ventilation• Upper protection• Lower protection• Adjustable strap• Straight temples• Coatings anti-scratch, anti-fogFREE MICROFIBRE STORAGE BAGJust what you would expect from the leading manufacturer of Ski Goggles. Very popular style & design, worn in all the leading workshops and on work siteOne size fits all, unisex design
Ideal for eye protection in almost every industry including building & construction, metal, stone, wood, chemical, glass etc
For further enquiries please contact us. Our details can be found in the 'Business Seller Information' below.
Visit our shop for further availability on a range of similar products.Discounted rates are available on items bought in larger quantities.Thank you for your interest in the products & services we offer.