DFSW2 Gas Propane Forge for Knifemaking Farriers Blacksmiths Furnace Burner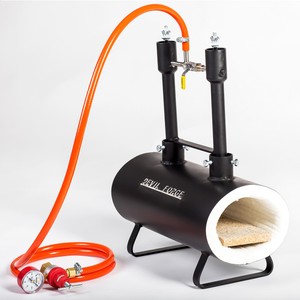 ---
Untitled Document

Visit Our Store: THE BIGGEST ASSORTMENT of Gas Forges, Gas Burners, Metal Melting Furnaces DEVIL FORGE PRODUCT SETUP AND DEMONSTRATION VIDEOSDFSW2 Full Set - Setup & Product ReviewREFRACTORY COATING RIGIDIZER FOR CERAMIC FIBER BLANKET IS INCLUDED:- Rigidizer powder, brush and user manual. (Upgrading ceramic insulation with protective coating will provide extra strong protection and will increase durability for ceramic insulation)Our gas pressure regulator connection standard - Shell DIN external thread to - W21.8 x 1/14" LH internal thread (Left thread): Fit to – GERMANY, AUSTRIA, FRANCE (and most European countries)Included adapter (POL CGA-510) for these countries: UNITED STATES, CANADA, SWEDEN, NORWAY, FINLAND, AUSTRALIA, NEW ZEALAND, ISRAEL, MEXICO, INDONESIA, THAILANDIncluded adapter (5/8" BSP Male POL Cylinder Adaptor) for these countries: UNITED KINGDOM, IRELAND, SOUTH AFRICA

You can CHANGE COMPLECTATION:
Without connection kit - $20 less.
When You make the payment please leave a note or a message "Without connection kit" and we will refund that amount.
  DFSW2, Propane Gas Forge for Knifemakers, Farriers and Blacksmiths, Efficient and EconomicalBurners with gas ball valve! (Use 1 or 2 burners)Width 170mm, 6.8" DFSW2 – 2 burner forge Our DFSW2 forge is portable and powerful, high quality. Designed for blacksmiths, farriers and knife makers. We combined this forge with powerful DFP burners. We guarantee that You will reach welding temperature - this forge can reach 2500° Fahrenheit (approx. 1370° Celsius).DFP burner (80,000 BTU). Powerful and efficient. Our nozzle design is lasting longer and increases the burner's efficiency. Its operating pressure range 1 - 25 PSI. There is a choke on the top of our burner – it regulates the amount of air that is mixed with the propane during combustion. Note: If You are looking for a good burner, You must know one thing – good burner must have air choke. If the burner doesn't have it (don't look at that side!), You can't reach maximum temperature because you need a different quantity of air on different pressure! When you use 1 burner, close the choke of the burner that is not in use. WATCH VIDEO "LESSON HOW TO REGULATE AIR CHOKE TO REACH IDEAL FLAME" Specification DFSW2:
Burner: DFP 2pcs. ;
Forge Body Constructed of: steel 21 gauge (0.8mm), the shell is lightweight;
Interior Dimensions: 6.8"Width x 4.4"Height x 16"Length (170mm x 110mm x 400mm); (Height with brick: 3,2" - 80mm);
Weight: 16lb (7kg).
Interior of the forge is fully covered with a 1-inch ceramic blanket. The floor is made of firebricks, providing superior strength and durability. Connection kit included with every forge:
Gas pressure regulator, 1 - 90 PSI (0 - 6bar) gauge with manometer;                                                                
6.5 ft (2meters) gas hose;
2 clamps.
All you need to supply is the propane tank.Our manometer with Mpa measurement. 0.1Mpa - 1Bar - 14.5PSIThe manometer advantages: You can adjust exact gas pressure You need and control gas consumption. You can see when the pressure is falling down. SHIPPING INFORMATION Handling and delivery usually is fast. The packages are shipped via couriers FEDEX, UPS, DPD, TNT. Very rare the package can be shipped via regular post to extended areas, therefore shipping might be slower. Table explanation: ATM: Gas pressure from gas pressure regulator (in Atmospheres). 1ATM - 1.01Bar - 14.5PSIPSI: Gas pressure from gas pressure regulator (in Pounds per square inch). 1PSI - 0.06ATM - 0.068BarBTU/Hr: British thermal unit per hour. 1 BTU/hr = 0.00029307107 kWLBS/Hr: Pounds per hour. 1 lbs = 0.45359237 kilogramsKg/Hr: Kilogram per hour. 1 kilogram = 2.20462262 lbsKW/Hr: Kilowatt per hour. 1 kW/Hr = 3412.142 BTU/Hr
| | | | | | |
| --- | --- | --- | --- | --- | --- |
| DFP |   |   |   |   |   |
| PSI | ATM | BTU/H | lbs/h | KW/h | Kg/h |
| 1 | 0,07 | 16.299 | 0,75 | 4,78 | 0,34 |
| 2 | 0,14 | 23.051 | 1,07 | 6,76 | 0,48 |
| 3 | 0,20 | 28.231 | 1,31 | 8,27 | 0,59 |
| 4 | 0,27 | 32.599 | 1,51 | 9,55 | 0,68 |
| 5 | 0,34 | 36.446 | 1,69 | 10,68 | 0,77 |
| 6 | 0,41 | 39.925 | 1,85 | 11,70 | 0,84 |
| 7 | 0,48 | 43.124 | 2,00 | 12,64 | 0,91 |
| 8 | 0,54 | 46.102 | 2,14 | 13,51 | 0,97 |
| 9 | 0,61 | 48.898 | 2,26 | 14,33 | 1,03 |
| 10 | 0,68 | 51.543 | 2,39 | 15,11 | 1,08 |
| 15 | 1,02 | 63.127 | 2,92 | 18,50 | 1,33 |
| 20 | 1,36 | 72.893 | 3,38 | 21,36 | 1,53 |
| 25 | 1,70 | 81.497 | 3,77 | 23,88 | 1,71 |
| 30 | 2,04 | 89.275 | 4,13 | 26,16 | 1,88 |
| 35 | 2,38 | 96.428 | 4,47 | 28,26 | 2,03 |
| 40 | 2,72 | 103.086 | 4,77 | 30,21 | 2,17 |
Graphic explanation: BTU/Hr: burner power.PSI: gas pressure from gas pressure regulator. "Devil-forge" metal logo plate is used for commercial purposes only, it is not added to the real product.

Untitled Document