Decorative Large Vellum BIBLE LEAF Handwriting INITIALS Paris 1250 #c078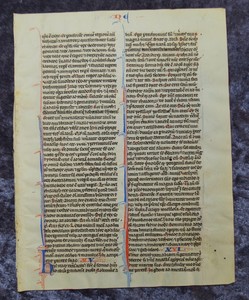 ---
 

 !!! WEITERE HISTORISCHE BÜCHER & HANDSCHRIFTEN IN UNSEREN AUKTIONEN !!!

!!! MORE HISTORY BOOKS & MANUSCRIPTS IN OUR AUCTIONS !!!

Selten! Originale und frühe lateinische Pergament Handschrift aus einer mittelalterlichen Bibel, Frankreich - Paris 1250 / 1275 AD !!!

Mit farbigen Initialen !

Beschreibung:

Wir bieten Ihnen ein Originales Blatt und sehr frühe lateinische Handschrift aus einer mittelalterlichen Bibel an. Die Handschrift wurde in schwarzer Tinte auf Pergament verfasst. Frühgotischer Schrifttyp in zwei Spalten Vorder- und Rückseitig mit jeweils 47 Zeilen. Mit Federwerkinitialen in rot und blau und dekorativem Ranken- und Federwerk.

Dieses Blatt stammt vermutlich von einer Bibel as dem sogenannten DU PRAT Atelier (siehe die Abhandlung von Branner, Manuscript painting in Paris, 1977).

Sehr seltenes Sammelobjekt!

Maße:

Blatt ca.: 16,5 x 13 cm

Zustand:

sehr guter Zustand, wenige Löchlein, z.T. Pergamentbedingt bzw. Wurmstich, aber kaum bedeutendSehen Sie sich die Bilder an!

Please note all items auctioned are genuine, we do not sell reproductions. A Certificate of Authenticity (COA) can be issued on request.

Combine shipping is possible with only 1x calculated shipping cost !

________________________________________________________________________________________________
Rare! Original and early Latin vellum manuscript from a medieval Bible, France - Paris about 1250-1275 AD!

With initials in colours !

Description:

We offer a original and very early Latin manuscript Leaf from a medieval Bible. The manuscript was written on vellum in black ink. Early Gothic font in two columns front and back side and each 47 lines. With spring plant initials in red and blue and decorative vines and spring work.

This leaf comes probably from a Bible of the so-called DU PRAT Atelier (as defined by Branner, Manuscript painting in Paris, 1977).

Very rare collection item!

Size:

Leaf app.: 

16,5 x 13 cm

Condition:

in very good condition, only few tiny holes, but not important!Please have a look at the pictures!

Combine shipping is possible with only 1x calculated shipping cost !

Please note all items auctioned are genuine, we do not sell reproductions. A Certificate of Authenticity (COA) can be issued on request.