IRELAND 15 EURO SILVER PROOF 2015.WILLIAM BUTLER YEATS. POET.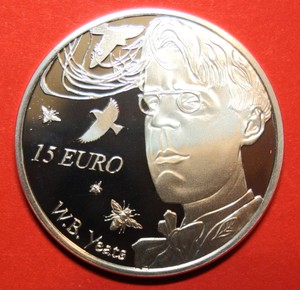 ---
FIFTEEN  EURO SILVER PROOF COIN 2015 COMMEMORATING W.B. YEATS'
ISSUED: BY CENTRAL BANK OF IRELAND.
ISSUE DATE:   3.6.2015.
LIMIT ISSUE: 8,000.
QUALITY: PROOF. STERLING SILVER 0.925
WEIGHT: 28.28GR. 
DIAMETER: 38.61MM.
DESIGNER:  MARY GREGORIY.
COIN COMES IN A  NICE PRESENTATION BOX WITH NUMBERED CERTIFICATE OF AUTHENTICITY.
W.B. Yeats
W.B. Yeats is widely considered to be one of
the greatest poets of the twentieth century.
Fascinated by the history, mythology and culture of
Ireland, his work reflected these themes and brought
Irish culture to a wider audience.
W.B. Yeats was born in Dublin on June 13, 1865, the son
of a well-known Irish painter, John Butler Yeats. Yeats was
one of the leading figures in the Irish Literary Revival and
his writing was deeply influenced by Irish mythology and
folklore. Promoting Ireland's native heritage, he became
an important cultural leader, a major playwright (he was
one of the founders of the famous Abbey Theatre in
Dublin), and one of the greatest poets of the century.
He was awarded the Nobel Prize for literature in 1923
and died in 1939 at the age of seventy three
 THANKS FOR LOOKING.
PLEASE CHECK OUT OTHER ITEMS IN MY STORE. WE HAPPILY COMBINE SHIPPING COSTS.