Tyvek CHF5 Classic Xpert Type 5 & 6 Coverall Spray Suit - Size XL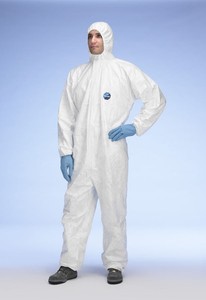 ---
DuPont Tyvek Classic Xpert CHF5 Coverall

By the leading manufacturer DUPONT

White in colour

Size: XL

Please refer to sizing chart image for your correct size.

Retail cost is £9.99 per suit

Chemical protective clothing: suitTYVEK®, Classic CHF5 WH

Two out of three users choose TYVEK® Classic because it has proven reliable protection for many years. TYVEK® acts as a barrier against many inorganic chemicals in low concentration and particles larger than 1µm. It is highly resistant to abrasion and tear and can confront with confidence the harsh environments where protective apparel is worn. TYVEK® Classic also offers an optimum comfort : it "breathes" as it is permeable to air and water vapour. It is the perfect balance between barrier effect, durability and comfort !

Drawing on decades of experience in the field, the Tyvek® Classic Xpert garment (model CHF5) now offers enhanced protection against a range of threats, from water-based chemical liquid splashes, asbestos, pharmaceutical and radioactive particulates to biological hazards. Chemical protective clothing – category III, type 5B and 6B.

 

Exceptional liquid protection3X more liquid protectionPatent-pending seam technology for enhanced liquid spray tightnessComplies to the new type 6 norm EN ISO 17491-4 Method ABarrier to infective agents ("biobarrier") according to EN 14126Exceptional particulate protection6X more particulate protection than Tyvek® Classic10X more particulate protection than microporous filmsParticle inward leakage of 1% according to Type 5*Class 2 radioactive particulate protection according to EN 1073-2Fabric permeation protection against some water-based inorganic low concentration chemicalsExceptional design and comfortOverall ergonomic shape for perfect fit & protection whilst movingElectrostatic properties according to EN 1149-5 (both sides for the white Tyvek® and inside for the coloured Tyvek®)**Robust, highly resistant to abrasion and tear

This item can be supplied in packs of 25 suits at a discounted rate, please contact us for pricing

 For further enquiries please contact us. 

Our details can be found in the 'Business Seller Information' below.Visit our shop for further availability on a range of similar products.Discounted rates are available on items bought in larger quantities.Thank you for your interest in the products & services we offer.